Whether you're spraying polyurethane foam insulation in a home, commercial building, rooftop, or applying polyurea to coat a bedliner Graco Plural-Component spray guns are the best you can get in order to get the job done with superior results.
You'll discover that Graco spray guns are easy to use, rugged, reliable and easy to maintain. Use the guide below to find the spray gun that's ideal for your application and visit ArmorThane.com to get the best available pricing.
WHAT IS AIRLESS SPRAYING?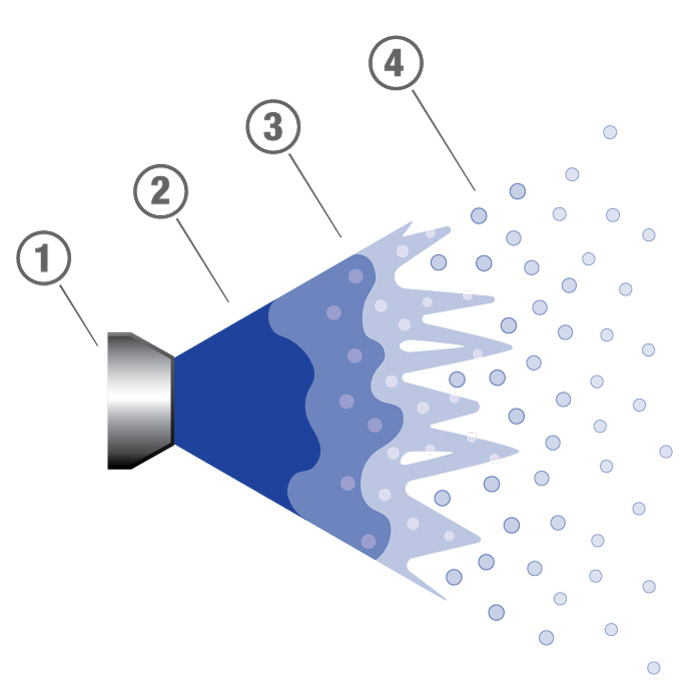 In an airless system, fluid is pumped under high pressure through a spray tip. Instead of compressed air, the fluid itself is pressurized, and as it passes through the spray tip, the fluid becomes atomized.
The tip size and fluid pressure is what determines the material flow rate. The tip also creates the fan pattern. In contrast, air spray systems inject compressed air into the fluid stream of paint to achieve atomization.
Airless spray tip
Sheet
Disrupted
Atomized fluid
GRACO FUSION AP –
OVERVIEW
The Fusion AP Gun handles everything from polyurethane foam to polyurea coatings. With long-life mix chamber and durable side seals, Fusion guns are designed to reduce your maintenance and downtime, and provide a better mix.
FEATURES
Air-blast tip cleaning reduces build-up and tip clogging
Hardened stainless steel mix chambers are built to last
Daily maintenance in a matter of seconds with the quick-shot grease port
Quick-Release Fluid Housing
GRACO PROBLER P2 – AIR PURGE
OVERVIEW
Recognized by the industry for its superior performance, the P2 gun's light, easy-to-handle design lets you spray and maneuver easily – even in difficult spraying positions. At the end of the day, maintenance is easy.
FEATURES
Responsive trigger action – double piston design provides more than 300 pounds (136 kg) of triggering force
The mix chamber insert can be replaced without replacing the entire chamber
Anti-crossover design virtually eliminates possibility of material entering the air piston
Ergonomic Handle and Balanced Design
GRACO FUSION CS –
OVERVIEW
Graco's Fusion CS plural-component spray gun with ClearShot (CS) Technology delivers improved productivity and performance throughout the spray day. Every time you pull the trigger, ClearShot Liquid is dispensed into the mix chamber and helps remove any built-up chemical keeping it clean.
FEATURES
Industry-First Quick-Change Front End
Variable Flow Setting
Chromex™ Coated Side Seals and Mix Chamber
Screw-in-Place Side Seals
Faster/Shorter Trigger Pull
VISIT THE PRODUCT PAGE
GRACO FUSION MP –
OVERVIEW
The Fusion Mechanical Purge spray gun's straightforward design provides excellent mix and material properties in a simple, easy-to-use package. Whether you're spraying polyurea coatings or spray foam insulation, the rugged Fusion MP handles it all.

Its rugged design provides excellent mix and material properties – giving you great results at the Jobsite.
FEATURES
Handles from very low output, thin mil applications to large, high flow, high-output applications just by changing the mix module and tip
Easy mechanical cleaning – mix modules and tips are cleaned with a drill bit
Smoother finish and better atomization
Advanced design provides excellent mix and material properties